Water Tank: Two Killed As Scaffolding Crashes In Dahod |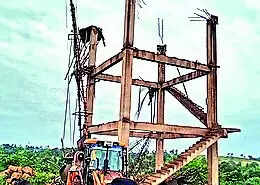 Vadodara: The slab of a water tank being constructed in the Rozam village in Dahod district collapsed on Thursday, leaving two workers dead and five others injured.
The incident took place in the evening when the labourers were working on the slab of the water tank. Sources said that the wooden scaffolding erected to support the slam shook, leading to the collapse of the slab.
"Five workers were on the slab while two others were working under it. Two were trapped under it even as five others fell on it," said Dahod collector Dr Harshit Gosavi.
Two of the critically injured workers were rushed to Vadodara for treatment. While their injuries are serious, their condition is said to be stable.
We also published the following articles recently
Vadodara professor, five others cheated
A visa agent in Surat, India, cheated six people out of Rs 46 lakh by promising them Canada work visas. The agent, Sandip Kapadiya, forged offer letters and created a fake email address in the name of the Canadian government. The victims, including an assistant professor, came into contact with Kapadiya through a colleague. They paid large sums of money for the visas, only to discover that they were scammed when one victim cross-checked the offer with the company's owner.
Drunk Dahod cop fires shots in air
A drunk policeman fired two shots in the air near a warehouse in Vadodara. The constable, Bharat Pateliya, was detained by the police after the incident. Pateliya, who was posted as a guard at the warehouse, fired the shots after his duty ended. He was in an intoxicated state and was not in control of himself. The shots were fired from the constable's INSAS rifle, and no other reason for the firing has been discovered yet. An offense has been registered against Pateliya.