Tamil Nadu CM MK Stalin pitches INDIA's win as key to progress | Chennai News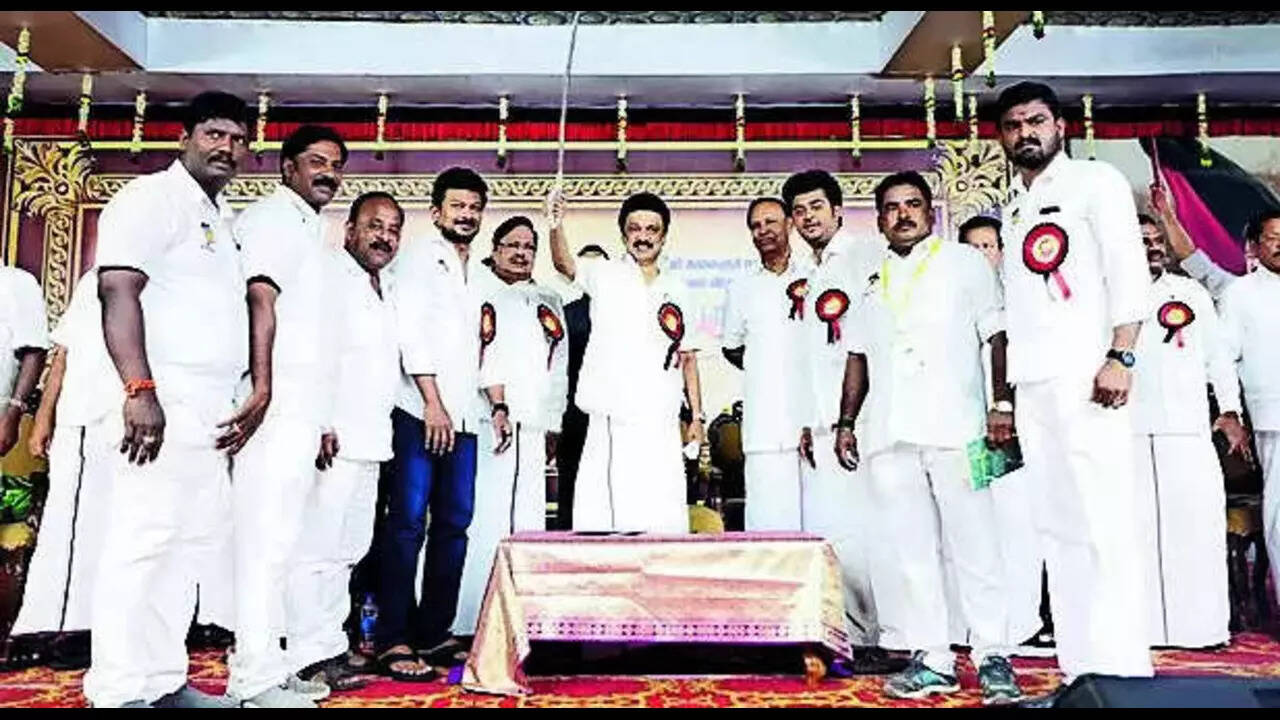 VELLORE: Painting the
BJP
as "a corrupt party bent upon destroying the culture of Tamil Nadu", chief minister M K
Stalin
said Tamil Nadu could flourish with multiple development schemes if the BJP was defeated and the INDIA alliance captures power at the centre in 2024.
Speaking at the DMK's 'Mupperum Vizha' (a celebration of three events, including the birth anniversaries of Periyar E V Ramasamy and C N Annadurai besides the DMK founding day) at Vellore on Sunday, Stalin said if INDIA alliance wins the elections, TN's welfare schemes could be expanded across the country. Besides, social justice of the Dravidian model government could also be established everywhere, he said.
"Can't we build AIIMS hospital in Madurai in 15 months, once the INDIA alliance comes to power? Can't we ban NEET? Can't we bring more metro train projects to TN? Can't we establish more airports here? All this is possible if the INDIA alliance wins the elections," Stalin said, flanked by all senior leaders of DMK, including its general secretary Duraimurugan.
Stalin said there was no doubt about the INDIA alliance's victory in Tamil Nadu and Puducherry, but the alliance should win across the country. "Our primary duty is to expose the corrupt face of the BJP to defeat them," he said.
In the last nine years, the BJP government has received 100 lakh crore, increasing the nation's debt from 55 lakh crore to 155 lakh crore.
"They are desperate to divert public attention from these failures. That's why they are raking up other issues," he said. All that the BJP has done in nine years was to hike prices and deal a blow to people, said Stalin.
Though the 'unprincipled' AIADMK ruined TN whenever it assumed office, the DMK revived the sagging fortunes of the state by defeating the rival, he said.
"TN's growth has incited jealousy for many. That's why the BJP was attempting to destroy the lives of the people by taking away rights of the state," he said.
But now the BJP was trying to stall TN's growth in the education sector by thrusting the new education policy, even as it was crippling TN financially through GST, Stalin said. If the BJP's attempts are to be checked, the saffron party should be defeated in 2024, he said.
Recalling the history of the DMK, he said it was not an easy task to keep a party alive for 75 years with the same vigour. To sustain the momentum and growth further, more cadres should be enrolled and from them more leaders should emerge, said Stalin.
Speaking earlier, Udhayanidhi Stalin said just like the way the AIADMK was defeated in 2021, the DMK should send their "boss", the BJP, home in 2024.