PM Vishwakarma: 3 Union Mins Attend Launch Of Pm Scheme For Artisans | Bhubaneswar News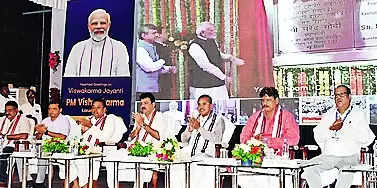 Bhubaneswar: Three Union ministers attended the launch of PM Vishwakarma scheme in three places of the state on Sunday. Prime Minister Narendra Modi addressed the community of artisans and craftspeople via videoconferencing from India's largest convention and exhibition centre, named Yashobhoomi, in Dwarka.
While railway minister Ashwini Vaishnaw attended the programme in Bhubaneswar, Union minister of state for women and child development Mahendra Munjapara and Union minister of state for minority affairs John Barla addressed the gathering at the ceremonies held in Puri and Sambalpur respectively.
Thousands of artisans and craftsmen participated in the event. Apart from launching the PM Vishwakarma scheme on the occasion of Vishwakarma Jayanti, Modi released the PM Vishwakarma logo, tagline and portal along with a customised stamp sheet, a tool kit e-booklet and video.
He distributed 'Vishwakarma' certificates to 18 beneficiaries, including one from Puri district. Basant Rana, a servitor who prepares the attire of sibling deities in Jagannath Temple with flowers, clothes and other supporting materials, was the recipient. He also makes garlands of flowers for the deities.
Training will be provided to 18 categories of 'Vishwakarmas' (artisans and craftspeople). They will be provided with collateral-free and low-interest loans up to Rs 3 lakh for purchasing indigenous tools. During the training period, they will get Rs 500 as daily allowance. A voucher worth Rs 15,000 will also be given to purchase a modern toolkit, official sources said.
The government will help in branding, packaging and marketing of the products.
We also published the following articles recently
Vishwakarma Yojana will reinvigorate artisans
The 13,000 crore PM Vishwakarma Yojana scheme, launched by Prime Minister Narendra Modi, aims to support traditional artisans and craftsmen by providing financial assistance, skill development training, and collateral-free credit. The scheme covers 18 different traditional crafts and aims to revitalize age-old trades and preserve traditional crafts. Union Minister Pankaj Chaudhary emphasized that the scheme is part of the government's objective to promote welfare schemes with the central theme of one nation. The launch event for the scheme was held in multiple locations across the country, including Coimbatore, Tamil Nadu.
Ensure artisans benefit from Vishwakarma scheme: Pawar
The Pradhanmantri Vishwakarma Yojana, launched by Prime Minister Narendra Modi, aims to empower traditional artisans in various occupations. The scheme provides them with a toolkit, training, and interest-free loans to become self-employed. Union Minister Dr Bharati Pawar emphasized the need for the administration to ensure that the benefits of the scheme reach all beneficiaries. The initiative aims to improve the quality and reach of artisans' products, integrate them into value chains, and preserve traditional crafts. The scheme has received commendation for celebrating the artisans' contribution to India's economy and cultural heritage.
Three Union ministers attend PM Vishwakarma launching programme in Odisha
Three Union ministers attended the "PM Vishwakarma" launching ceremony in Odisha, where Prime Minister Narendra Modi addressed artisans via videoconferencing. The ministers attended the events in Bhubaneswar, Puri, and Sambalpur. The PM launched the PM Vishwakarma scheme for traditional artisans and craftspeople, releasing the logo, tagline, and portal. He also distributed Vishwakarma certificates and announced training programs, collateral-free loans, and allowances for artisans. The government will assist with branding, packaging, and marketing, urging artisans to purchase tools from GST registered shops.