Nupur Shikhare and Ira Khan got engaged in November 2022, but the couple who's dating for a while now, continues to spread mushiness on the internet with their love-filled pictures. It's the day of love and the couple is making sure their Valentine's day after being engaged is quite special.
Ira shared some pictures with husband-to-be Nupur. They can be seen posing together with all the love. While Ira is in a black attire, Nupur has a grey t-shirt and jeans. Ira also drooped a cute caption. She wrote, "We tried multiple angles. I love him in all. Happy Valentine's Day, cutie @nupur_popeye. Any excuse to show you extra love is a good one."
Nupur reposted these pictures in his story and wrote, "Hi bubs, will you please be my Valentine…always? Ok thank you."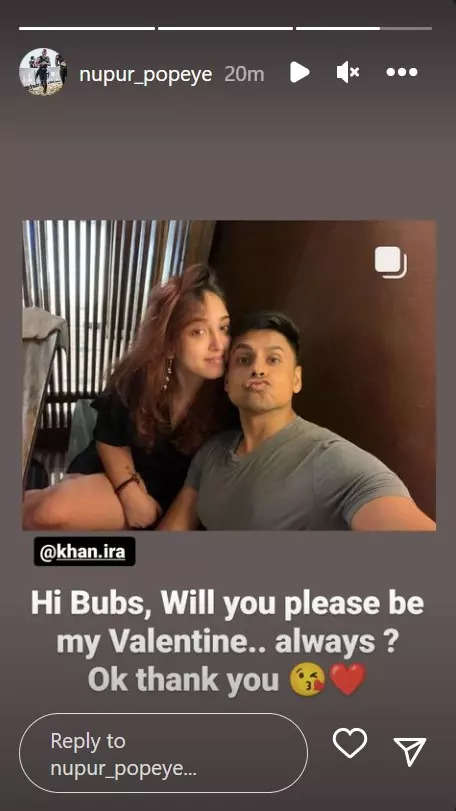 Ira and Nupur's engagement announcement video was also all things mushy. Ira had also penned a heartfelt note. She wrote, "This moment. Multiple people on multiple occasions have told me that I throw really good parties. I think they give me a little too much credit. The main difference between my parties and other people parties is the guest list. The people in our lives are what make it happy and fun and quirky and so very, very wholesome🥰🥳🤗❤️ Thank you for being there and allowing us to be seen in our proclamation of love for either other. Because that's exactly what we wanted to do. Sending much joy and appreciation to you all☺️ The most to @nupur_shikhare but that's a whole other post. Obviously."
It was attended by Ira's father Aamir Khan and other family members. One could see Aamir dancing with Mansoor Khan on 'Papa Kehte Hai' at his daughter's engagement.